A common morning booster for many people, coffee is known to refresh your body and mind. what you didn't know is that this natural ingredient has the same superpowers for your skin as well. A powerhouse of antioxidants and caffeic acid, coffee helps to exfoliate, brighten, and nourish your skin and slows down the signs of aging. Coffee is an excellent exfoliator and helps in stimulating blood flow, which reduces acne and even cellulite and stretch marks. Important coffee face pack benefits are that its rich antioxidants kill dead cells and remove impurities, making skin smoother and brighter looking. In this blog, I am going to share the 3 step coffee facial to get clear and glowing skin. This 3 step facial consists of cleansing, scrubbing, and face mask.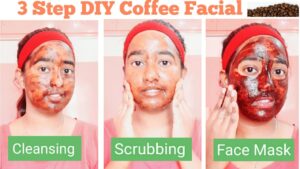 Step 1: Cleansing
Cleansing is the first and basic step of a facial. It removes dirt, excess oil, and other unwanted impurities, thus making the skin clean.
You Will Need
1 tablespoon coffee grounds
2 tablespoons aloe Vera gel
Method
Mix both the ingredients.
Apply the mixture to your face and massage it in a circular motion for about two minutes
After 2 minutes, wash it off in normal water
Why This Works
Aloe Vera is extremely soothing and calming. It hydrates your skin and helps it feel relaxed and helps to remove the dirt and excess oil. And there you go, you're done with step 1!
Step 2: Scrubbing Using 
The next step after cleansing is scrubbing. Scrubbing helps in improving the overall look of the face by removing the dead skin cells and exfoliating the skin.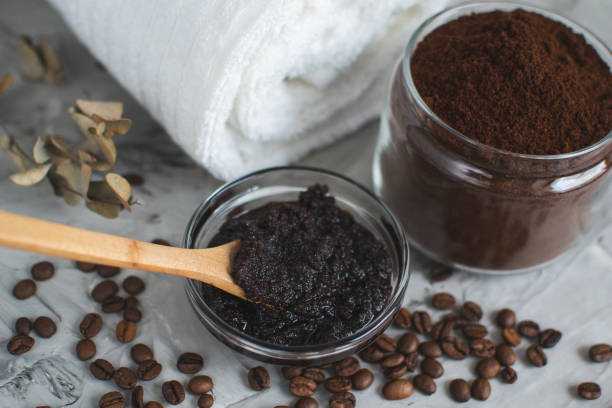 You Will Need
2 tablespoons coffee grounds
1 tablespoon granulated sugar
2 tablespoon coconut oil
Method
Put all the ingredients in a glass bowl and mix well.
Gently scrub this mixture in a circular motion on your face for about 5-6 minutes
After 5 minutes, wash it off with normal water.
Why This Works
Coffee tightens the skin and is an excellent exfoliate while coconut oil helps in keeping the skin nourished and moisturized. This scrub contains antioxidants that boost skin health and keep it glowing. This process helps in removing the dead cells from your skin. And there you go, you're done with step 2!
Step 3: Face Mask
Yes! You are just one step away from gaining that brighter and glowing skin. The face mask is the most crucial step in the process of a facial. Face masks help in hydrating the skin and make the overall appearance of the skin better.
You Will Need
2 tablespoon of coffee powder
1 tablespoon of milk
Method
Put all the ingredients in a glass bowl and mix well to get a thick paste.
Apply this paste on your face and leave it for 20 minutes.
After 20 minutes, rinse it off by gently rubbing it in a circular motion
Why This Works
Milk contains agents that help in increasing the glow of your skin. This face mask will help to get rid of dead skin cells, leaving behind glowing skin.   This simple DIY coffee facial guide can do wonders on your skin. Repeat this once a week for 1-2 months and you can see a huge difference.
Hope you like the blog. Write to me at srinidhik6@gmail.com
Alternatively, you can reach me on these social media networks
Instagram | Facebook | YouTube
You Can check out the video on how to do this facial step by step https://youtu.be/1JwNpU4wbjY